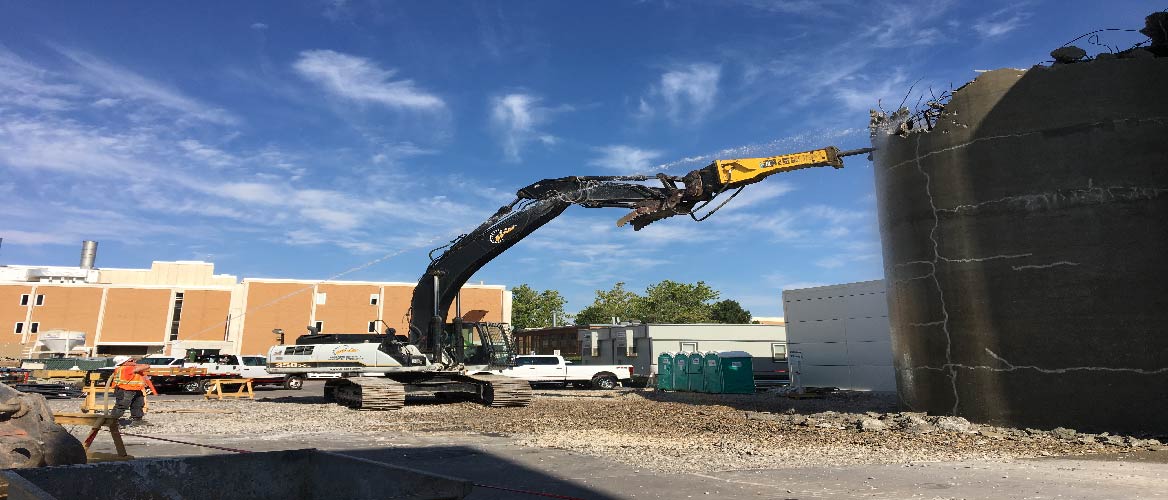 Industrial demolition services must be capable of maximizing productivity and enhancing safety.
Any kind of demolition is a problematic undertaking, and no matter what preparations you make or evaluations you launch, you can never identify all the factors you'll face. The demolition company you choose must be flexible enough, and responsive enough, to deal with the circumstances that arise. To do that, they must offer superior equipment, knowledgeable technicians, and an enduring commitment to safety.
At A-Core, we have a track record of success despite challenging, or downright hostile, environments. Our mission is to provide high-caliber service, completing projects within budget and before deadline in a professional and safe manner.
A-Core Takes on Any Challenge
A-Core is highly experienced in all manner of concrete demolition services in some of the remotest and most challenging environments. Our extensive experience, flexible services, and highly trained crews can tackle any job, no matter how complex or simple. We've performed soft and heavy concrete demolition work on:
Refineries
Power plants
Buildings
Bridges
Highways
Airports
Air bases
Mines
Nuclear facilities
Homes
State-of-the-Art Demolition of Concrete Solutions
When it comes to demolition, A-Core has the right tools for the job. We pride ourselves on our wide array of high-tech solutions to our customer's demolition challenges. From the latest robotic hammering techniques to skid steers, dingos, and track hoes, we specialize in all forms of controlled concrete demolition. With our expertise and methods, we provide quiet, fast, environment-friendly and vibration-free work.
A-Core's Past Successes
One of our most harrowing challenges is found in Paul, Idaho. An aging 230-foot smoke stack looming over an amalgamated sugar plant was deemed unsafe and unstable, but in the midst of so many buildings that were in use, it posed a unique problem.
As a solution, A-Core considered all safety concerns and possible methods and then, with the contractor, tailored a plan to saw-cut the smoke stack from the top down. Once we divided the concrete into 3×4-foot sections, we then pushed them to the center of the stack where the sections could be removed.
Unfortunately, the frigid weather conditions and high-altitude winds provided a significant risk to our operators. Nevertheless, our solution allowed for the successful removal of a daily average of 6ft from the smoke stack.
Get a Free Quote for Your Next Industrial Demolition Project
Since 1974, A-Core has provided the nation's leading industrial demolition services, diamond wire sawing, heavy demolition services and wire sawing. We take on construction challenges from every industry and region. No job is too complex or too simple. Contact us to request a bid today.