What is concrete demolition? Concrete demolition is the tearing down of concrete buildings and other structures.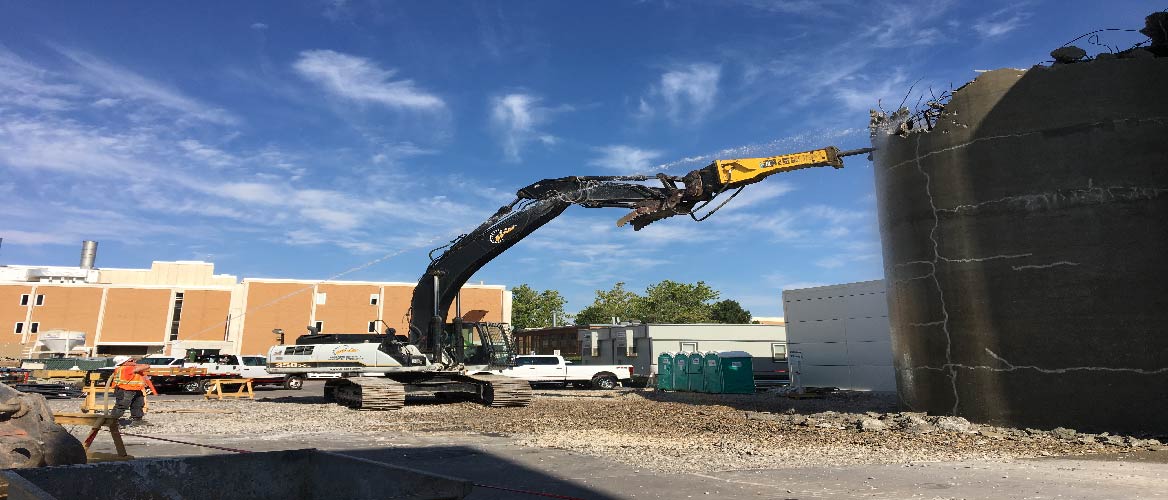 What is concrete demolition? Concrete demolition is the tearing down of concrete buildings and other structures. While many people may not clearly see or understand the importance of such an act, its importance remains strong. For example, concrete demolition and removal must take place before rebuilding or building new structures can commence. Without concrete demolition, space wouldn't be made available for new residential communities to be built. In fact, the following statistics show how large the new residential construction industry is:
·         Building permits for new residential construction in May 2014 were at a seasonally adjusted annual rate (SAAR) of 991,000.
·         Housing starts in May 2014 were at an SAAR of 1,001,000, down 6.5 percent from April, but up 9.4 percent from May 2013.
Concrete building demolition not only makes it possible for new communities to be built, but it also removes old and unsafe buildings from properties. As buildings age, their concrete structures become less stable, and this poses a threat to people who may live or work around such buildings.
The demolition of concrete structures also allows for old concrete to be recycled, which is great for the environment, and it opens up space and makes properties more aesthetically appealing. Concrete demo is the best and safest way for tearing down concrete structures, which explains the fact that revenue of demolition and wrecking in the United States was $3 billion in 2013.
Concrete Demolition Techniques
While the final outcome of concrete demolition is a torn down structure, there are different concrete demolition techniques to make that happen.
·         Manual. Manual concrete demolition services are usually done on residential structures or smaller structures. The most common concrete demolition tools used for such projects are robotic hammers, sledgehammers, and picks.
·         Mechanical. Mechanical concrete demolition occurs on much larger structures. Concrete silo demolition would be an example of a larger structure. Excavators, cranes, loaders, and bulldozers are the types of tools used for this demolition technique.
·         Induced collapse. This technique involves the systematic and sequential removal of key elements of the structure by applying a force that results in the controlled collapse of that structure (or parts of it). It's too dangerous to use this technique in tight urban quarters, so it's done only on isolated structures.
·         Building implosion. Building implosion is exactly what it sounds like—using high-powered explosives like nitroglycerine, TNT, and C4 to collapse a building. Preparation for the implosion and cleaning it up take much longer than the implosion itself.
It's important to have a solid understanding of each of these techniques before trying to execute any of them. That's why it's best to hire a concrete demolition company or concrete demolition contractors for any needs you may have regarding demolition. Concrete is a sturdy, heavy material that can seriously injure someone if it's not demolished properly.
5 Reasons to Hire a Concrete Demolition Contractor
Hiring concrete demolition contractors to complete any tasks regarding demolition is critical for several reasons.
1.       Safety. Concrete demolition specialists know how to accomplish projects in the safest way possible because they have been properly trained on safety techniques. They know how to execute each task with precision and accuracy, and they know how to minimize risks and dangers on the job.
2.       Expertise. Concrete demolition specialists are the experts. They are the best at what they do because they know how to handle equipment properly. They know how to do a job right because of their specialized skills and their knowledge of concrete demolition and concrete cutting techniques.
3.       Experience. In addition to having specialized skills, concrete demolition contractors have years of experience demolishing concrete structures. They know what to expect and they know how to adequately prepare for each type of demolition project. With years of experience as professionals, they are capable of demolishing any concrete structure with precision.
4.       Flexibility. Another benefit of hiring concrete demolition contractors is that they can work on projects both large and small, and are willing to work on them according to your schedule. If you have a timeline, they can work according to that timeline so that you can reach your goals involving the demolition.
5.       Excellence. Concrete demolition contractors have goals to achieve excellence, no matter what the project may be. They are driven to complete each demolition project with accuracy and to deliver exceptional results. That's why it's so beneficial to hire such dedicated, competent concrete demolition contractors.